A carpet
A carpet is a floor decoration commonly found not only in our homes but also in offices or even in outside areas (see
commercial carpet
).
A carpet
can come in many different styles, shapes, structures, and made out of many different materials. When choosing a carpet for your home, you should be equipped with at least basic information about carpet fiber materials.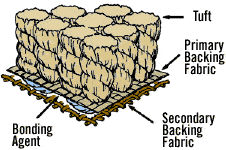 What makes up a carpet
A carpet consists of an upper layer attached to a carpet backing. The upper layer of a carpet that we walk on is called a "carpet pile". The carpet pile can be made from natural materials (wool, rayon, cotton, silk) or from synthetic materials (nylon, polypropylene, etc.). See the
carpet fiber
page for more details about carpet fiber materials. The carpet backing consists of carpet warp and carpet weft (see a picture on this page
Difference between a handmade and a machine-made rug
).
The pile can be woven, tufted, needlefelt, etc. There are quite a few
carpet types
available. Most widely available carpets have either a tufted or a broadloom woven pile. A tufted pile (see the picture to the left) is created by injecting the tuft into the carpet backing. A woven pile (see the picture below) is made in a way that is similar to woven clothes. Some carpets are knotted (that would be the case of for example
Persian carpet
). A carpet is usually installed on
carpet padding
.
Tips for choosing a carpet
With so many
carpeting
materials and carpet construction technologies, choosing a carpet for your home can be a daunting prospect. Different fibers and constructions determine properties such as carpet's: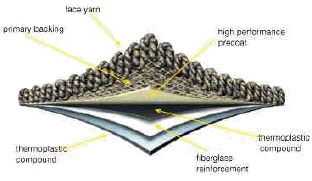 durability,
colorfastness,
abrasion,
look and feel,
stain resistance,
sound absorption,
warmth,
overall comfort,
price (see carpet manufacturers).
You can find more details and tips on how to buy carpet in your carpet buying guide, see
how to buy carpet
.
Carpet durability
The length of time a carpet will last depends mostly on the following factors:
carpet pile,
carpet fiber,
weight of fiber,
density of pile (see for example saxony carpet),
special treatment (see for example Scotchgard at Mohawk carpet).
Areas of high wear such as hallways and living areas require higher quality carpets. One of the important parameters of a carpet is its suggested end use location. When buying a carpet always inquire about the intended usage of the carpet that you are looking at. The wrong carpet may wear out quickly, fade, or show stains that stubbornly resist your best cleaning efforts. The durability of a carpet can be extended also by following proper
carpet installation
tips and techniques.
Carpet care
The durability of your carpet is determined to a great extent by its fitness for use (selection of the correct fiber, pile, etc. for the given use). The durability of a carpet is also determined very much by the carpet care. For a
clean carpet
, it is important to use the right
stain removal chemicals
to avoid
carpet cleaning mistakes
. When cleaning a carpet, it is also important to follow
cleaning safety precautions
.