Carpeting
Carpeting requires special skills and tools and also some special knowledge. Before you start your carpeting job and hire a
carpeting
specialist, you should at least know about various carpeting styles and carpeting types.
Introduction to carpeting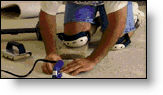 Carpets come in many different styles and types, and not every carpeting product is suitable for every use. For example, you would not want to use a carpet made out of wool or cotton for your patio (an olefin made carpeting would be a better choice). You would also not want to use a PET made carpet for your bed room. While a saxony type of carpeting (
saxony carpet
) would be a good choice for your bedroom, a berber type of carpeting (
berber carpet
) would be a better choice for a hallway. See
carpet style
and
carpet types
.
The
carpeting
installation job itself requires some special skills and tools. Before you lay the carpet down, the surface needs to be leveled. After the floor carpeting surface is level, you may need to install
carpet padding
. Carpet padding may be needed for acoustic, softness, or warmth reasons. After you install carpet padding and then install the carpet itself, you would want to make sure that the seams are double glued. Double gluing seams on your
carpeting
prevents their delamination and fuzzing. A special tool called carpeting stretcher is needed to power stretch the carpet to avoid its wrinkling. See carpet installation for more details about carpeting tips and tricks (
carpet installation
).
Green carpeting

If you want to keep track with modern trends, you should consider so-called "green carpeting", also known as "eco-friendly carpeting". Green carpeting is a hit of recent years. Green carpeting means that the carpet is made out of recycled materials. The carpeting being made out of recycled materials does not deteriorate the quality of the carpeting in any way. A green carpeting looks, feels, and behaves the same way like carpeting made out of oil (synthetic materials such as PET, Olefin, Nylon are made out of oil). The advantage of green carpeting is lower cost and the ability to reuse resources which would otherwise pollute our land. Most big-name manufacturers such as Shaw and Mohawk offer eco-friendly carpeting product lines. See
Shaw carpet
and
Mohawk carpet
. In case you prefer uniqueness and antique looking style, you might want to consider handmade carpeting products such as
Persian carpet
or
Kashmir carpet
. Learn how to buy carpet in our How to buy carpet guide, read
How to buy carpet
.