Mohawk carpet
Mohawk carpet is a flooring product manufactured by Mohawk Industries. With 125 years of history, the Mohawk carpeting and floor decoration business can be described by a long tradition of quality products. This makes
Mohawk carpet
one of the oldest carpet products. Mohawk carpet comes in a variety of collections to suit special needs ranging from home to commercial and other office use. Mohawk carpet is made by Mohawk Industries which is part of the conglomerate of Mohawk companies which delivers flooring products for a variety of use. Mohawk is a manufacturer of carpet, rugs, hardwood floors, ceramic tile, laminate, and vinyl flooring.
Characteristics of Mohawk carpet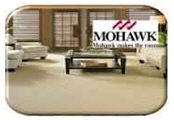 Mohawk's slogan is "Mohawk makes the room". The company slogan itself suggests that Mohawk is committed to delivering high quality products and that Mohawk is determined to being a part of everyone's house. Mohawk is so determined to providing quality products and being in every house that they back up their product with a twenty year warranty on stain resistance and fade resistance. They also provide an anti-static warranty and a twenty year normal wear and tear warranty.
Mohawk carpet
by all means provides the most extensive program of guarantees.
Mohawk carpet is known for offering plenty of fibers in plenty of variations and styles. The carpet fiber used in Mohawk carpet includes nylon, polyester (PET), polypropylene (olefin), and triexta (PTT). All these materials are used to make Mohawk carpet in a way that makes it durable throughout its lifetime. Using these materials and their combinations in Mohawk carpet also allows Mohawk to offer a wide variety of different textures. Mohawk carpets are available in textured plush style (prone to footprints and vacuuming marks), saxony and
frieze
cut pile style,
berber carpet
loop pile style and many other cut loop styles.
The carpet product line aimed at durability as the primary parameter is called WearDated. Mohawk carpets with the WearDated seal are known for retaining their look for a long time and tend not to wear out as other carpets do. Mohawk carpets can be also treated with so called Scotchgard. Scotchgard is a special technology designed to repel spills and resist soiling.
Mohawk carpet commitment to being green

Being green is important to Mohawk. Mohawk carpet is made with respect to the environment. Mohawk offers a unique brand of Mohawk carpets called EverStrand. EverStrand
Mohawk carpet
is made from special carpet fiber that is made out of recycled plastic bottles. Mohawk claims that "One in every four plastic bottles recycled in North America becomes EverStrand." It takes on average some 30 recycled plastic bottles to make one square yard of EverStrand carpet. The qualities of EverStrand carpet are the same like of a carpet that is made out of newly produced materials. The difference between a regular Mohawk carpet and the EverStrand brand is that the EverStrand carpet is safer to the environment and does not increase our dependency on oil as much.
Another eco-friendly Mohawk carpet line is the SmartStrand. SmartStrand carpets are made with the support of renewable resources. Another line of eco-friendly carpets is called Greenline.
Mohawk carpet price
The table below provides informational average price ranges of some common Mohawk carpet brands.
| Mohawk carpet collection | Cut price per square foot |
| --- | --- |
| ALLADIN | from $0,67 to $2,83 |
| HELIOS | from $1,88 to $11,15 |
| HORIZON | from $0,84 to $3,88 |
| WORLD | from $1,22 to $1,87 |
| WUNDAWEV | from $2,10 to 4,85 |
| WUNDAWEVE | from $2,05 to $5,32 |
Services related to Mohawk carpet
Mohawk not only sells carpets, they also provide an extensive program of supporting services. In addition to manufacturing carpets, Mohawk offers
carpet installation
, cleaning, and an array of carpet care products, such as the Mohawk
stain removal kit
.