Bigelow carpet
Bigelow carpet is a general term for carpets manufactured by the Bigelow division of the Mohawk Group. Bigelow carpets come in two major product lines. So called
Bigelow Carpet
is a trademark of home retailer Carpet One. The next product line is called
Bigelow Commercial
. Bigelow Commercial focuses primarily on a wide variety of carpets for the commercial markets. Both product lines belong to the Mohawk Group (see
Mohawk carpet
).
Bigelow carpet characteristics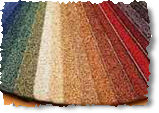 From the strategy point of view, Mohawk selected the phrase "
A Better World by Design
" as the sales buzz line for their Bigelow carpet. The sales slogan itself suggests that the Bigelow carpet line targets customers who expect from a carpet more than just the carpet being a floor covering. The Bigelow product line features a wide selection of designs and colors. When we look at for example the
Bigelow carpet
commercial line (the Bigelow Commercial), we can see that the Bigelow commercial alone offers as many as some 150
carpeting
styles.

From the carpet structure and manufacture point of view, Bigelow carpets come in many different types and styles. The Bigelow carpet line offers carpets for various purposes, such as for light, severe, or heavy traffic. A tufted carpet type (see
carpet types
) is probably the most commonly used technique used in the Bigelow carpet product line. Most Bigelow carpets are made out of Colorstrand SD Nylon carpet fiber (see
carpet fiber
).
From the carpet warranty perspective, many
Bigelow carpet
products offer a lifetime static warranty. Many Bigelow carpets also come with a lifetime limited colorfastness to light, with a 10-year limited colorfastness to atmospheric contaminants, and with a 10-year stain warranties. Before you decide to buy a Bigelow carpet, you might want to research some tips on where and how to buy a carpet, see
buy carpet
.